Acne can develop at any age, but it is most common among teenagers. It also tends to linger in adult women. Acne can develop on almost any part of the body, including face, neck, arms, back, the legs and the shoulders. At NW Dermatology Institute, our providers approach acne with various treatment options depending on the severity of the acne and patient preferences. Regardless of whether acne is mild, moderate or severe, we take the problem seriously and provide the latest treatment options to manage acne conditions and to try to prevent permanent scarring. We also offer laser therapy for treatment of acne scarring.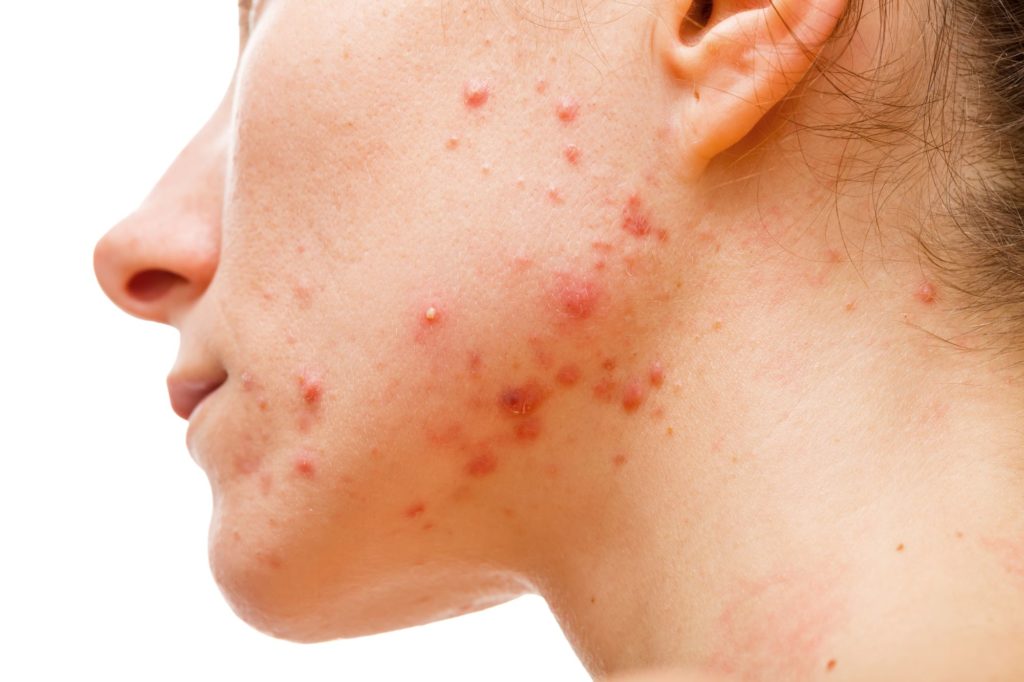 What Causes Acne?
There are many factors that contribute to acne, including genetic predisposition. Among teens and adults, hormones play a key role. Another common factor of acne is pores filling with oil and bacteria, which can spread into the skin and cause inflammation to occur.
What are the Treatment Options for Acne?
There are many treatment options available for acne. Mild acne is typically treated with a combination of topical medications targeted towards treating the different types of lesions. Moderate to severe acne may require oral medication in addition to topical medications. It may take up to 6-8 weeks before the benefits of acne treatments are seen. Regardless, patients should know that acne is a very treatable condition and is very responsive to treatment when under the care of a dermatologist. We are also experienced at treating patients with severe acne with isotretinoin (Accutane). We always take into account patient preferences when treating acne.
Blu-U Light Acne Treatment
Blu-U blue light is a non-invasive therapy that utilizes safe and painless blue light in the treatment of acne without the use of antibiotics. Blu-U light treats acne in two ways; firstly, it shrinks the skin's oil glands. This can drastically reduce the amount of oil within the pores thereby reducing blackheads and whiteheads. Secondly, Blu-U light destroys the acne bacteria on the skin that causes breakouts. Blu-U light may also improve the skin's overall texture and may speed the resolution of acne-induced skin discoloration.